LITOM 12 LEDs Outdoor Solar Landscaping Lights Cold White 2 Pack
Cool White Light Solar Spotlights: Brighter 12 LEDs with Wider 120°Lighting Angle & 90°Adjustable Bigger Solar Panel & Longer Working Time with 18650 lithium rechargeable battery. LITOM solar landscape light is much more unique, fashionable and practical compared to other 4-6 LED lights in the market.
2 Brightness Lighting Modes(Always on): Low Light Mode(12hrs) / High Light Mode(6hrs). LITOM solar landscape spotlights can automatically detect changes in the brightness of the external environment. When the brightness is low enough to require illumination, it will automatically switch from energy storage mode to lighting mode without motion detection (Auto on at night / Auto off at sunrise).
Leading IP67 Waterproof Technology: Made of high-impact ABS plastic and having been enormous technological breakthroughs in waterproof grade, LITOM outdoor solar lights have unique IP67 waterproof design and can withstand all kinds of terrible weather. Much more durable than other less waterproof grade lights.
2 in 1 Function & 2 Installation Options: Stick into the ground with stakes / Mount on the wall with the screws included. Optimum for Patio, Porch, Path, Deck, Pool, Yard, Garden, Garage, Driveway, Pathway,etc.
Supreme Quality Ensured: LITOM solar security wall lights have obtained appearance patents and certifications issued by FCC, CE, RoHS, MSDS, UN38.3, etc.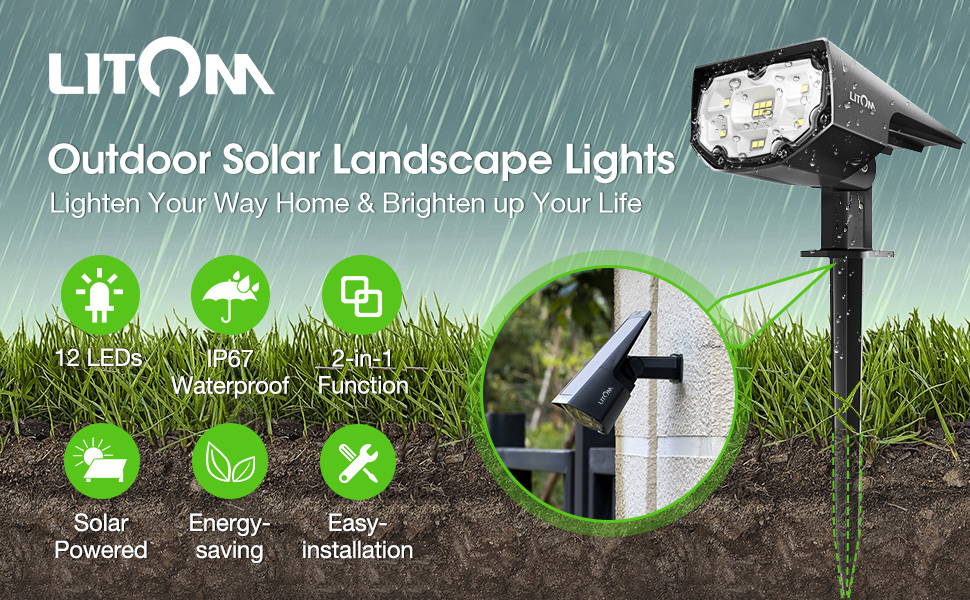 LITOM IP67 Waterproof Outdoor Solar Landscape Spotlights
Warm Tips:
1、In order to maximize the lighting effect, please make sure that the solar landscape spotlight is full of sunlight electricity.
2、That whether the solar landscaping spotlights can produce the best lighting effect or not depends on sunlight intensity, geographical location, weather, seasons and other inevitable factors.
3、It is normal that outdoor solar lights may need more time (at least 6-8 hours) to charge in cold or cloudy weather day because there has not enough direct sunlight supplied




LITOM LED Solar Landscaping Lights with Your Life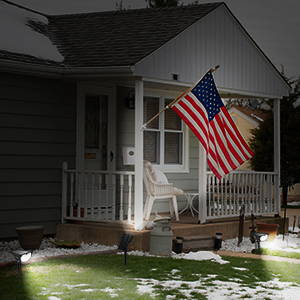 Outdoor Solar Landscape Spotlights
LITOM solar spotlights can be widely used for garden, pathway, fences, wall, yard, stair, garage, cellar, attic, front porch, balcony, walkway, driveway, camping, fishing, etc.
Charging during the daytime, this solar landscape light automatically runs from dusk till dawn.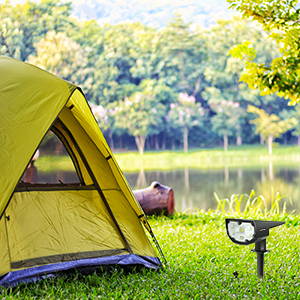 Outdoor Solar Powered Security Wall Lights
2 Lighting Modes Available
Low Light Mode: Press the power button once, the light will charge during the day and automatically light up DIM light in darkness or at night.
High Light Mode: Press the button twice, the landscape light will charge during the day and automatically light up BRIGHT light in darkness or at night.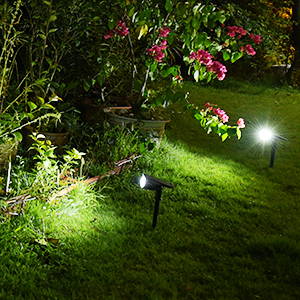 Outdoor Solar LED Powered Landscaping Lights
Packing Lists
2 x Solar Landscape Lights

2 x Ground Stakes

6 x Screws

6 x Wall Plugs

1 x User Manual

1 x Packing Box
Note: Please make sure to turn on the switch before use.
Install LITOM beneficial & durable solar lights to ensure safety of you and your families!

Cold White Outdoor Solar LED Landscape Lights
Multicolored Outdoor Solar Landscaping Lights
Cold & Warm White Adjustable Solar Landscape Lights
Cold White Solar Motion Sensor Landscape Lights
Warm White Outdoor Solar Landscaping Spotlights
Cold & Warm White Adjustable Solar Landscaping Lights PRO

Unit LED

12

12

12

30

12

30

Waterproof Grade

IP67

IP67

IP67

IP67

IP67

IP67

Panel Material

Monocrystalline Silicon

Monocrystalline Silicon

Monocrystalline Silicon

Monocrystalline Silicon

Monocrystalline Silicon

Monocrystalline Silicon

Light Colors

Cold White

Multicolored (12 colors)

Cold & Warm White Adjustable

Cold White

Warm White

Cold & Warm White Adjustable

Color Temperature

6500K

/

3000K / 6500K

6500K

3000K

3000K / 6500K

Sensing Method

No motion sensing / Stay On

No motion sensing / Stay On

No motion sensing / Stay On

120° sensing angle / Stay On

No motion sensing / Stay On

No motion sensing / Stay On

Lighting Modes

2 Optional Modes

13 Optional Modes

4 Optional Modes

3 Optional Modes

2 Optional Modes

4 Optional Modes

Installation Type

In-Ground / Wall-mounted

In-Ground / Wall-mounted

In-Ground / Wall-mounted

In-Ground / Wall-mounted

In-Ground / Wall-mounted

In-Ground / Wall-mounted

Max. Working Time

Low Light Mode (12hrs) / High Light Mode (6hrs)

Fixed Color Modes (6 hrs) / Auto Changing Color Mode (12 hrs)

Low Light Mode (12hrs) / High Light Mode (6hrs)

Low Light Mode (12hrs) / Medium Light Mode (6hrs) / High Light Sensing Mode (>150 times)

Low Light Mode (12hrs) / High Light Mode (6hrs)

Low Light Mode (12hrs) / High Light